We complain when blockbuster bouts elude us – so it's important to highlight positive matchmaking.
In the next five months fans will see four fights contested, purely, by unbeaten boxers; the kind promoters sell with the well-travelled line Someone's 0 Has Got To Go.
Terence Crawford faces Viktor Postol, Leo Santa Cruz takes on Carl Frampton and Kell Brook challenges Gennady Golovkin, while Sergey Kovalev and Andre Ward meet in a pound-for-pound showdown.
Ahead of next Saturday's light-welterweight unification between Crawford and Postol, I've recalled my favourites.
JOE CALZAGHE v JEFF LACY
March 4, 2006
One was a WBO super-middleweight champion in desperate need of a career-defining win, the other an IBF title holder whose ferocity had earned him comparisons with Mike Tyson.
Few expected Calzaghe to win and his demise was widely predicted.
Carl Froch predicted the Welshman would be stopped and James Toney called it a "mismatch", saying: "Lacy is going to destroy that boy."
But he stunned and thrilled observers in equal measures with one of the finest displays ever witnessed in a British boxing ring, knocking Lacy down en route to a near shutout win.
The American, baffled by the phenomenal pace set by his rival, took a horrendous beating and was never the same fighter.
Calzaghe – who beat Mikkel Kessler, Bernard Hopkins and Roy Jones Jr before retiring unbeaten – says: "It was the fight that changed my career."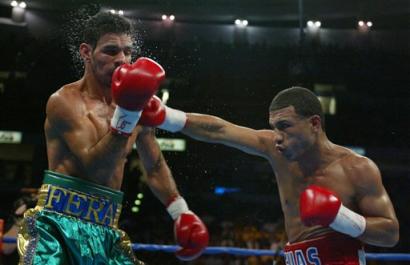 MIGUEL COTTO v KELSON PINTO
September 11, 2004
A superstar was born in Puerto Rico as Cotto claimed a sixth-round knockout – and the vacant WBO light-welterweight title – over the tall Brazilian who had defeated him in the amateurs.
The future hall of famer – courageous in losses to Manny Pacquiao, Floyd Mayweather Jr and Saul 'Canelo' Alvarez – got his revenge with vicious left hooks to head and body.
There was huge UK interest in the fight due to Ricky Hatton's ascent in the same division however it was no surprise when the Manchester man took a Cotto-free route to his own world title a year later, against IBF ruler Kostya Tszyu.
Following his Cotto loss, Pinto enjoyed four more fights before calling it a day.
PRINCE NASEEM HAMED v PAUL INGLE
April 10, 1999
Britain's finest and most controversial featherweight put his WBO title on the line against the unbeaten European champion.
And in his first fight following a bitter split with trainer and mentor Brendan Ingle, Hamed delivered.
The Sheffield star was tested by the Yorkshire Hunter but responded by raising his game, dropping the Yorkshire Hunter in the first and sixth rounds before ending it in the eleventh.
Ingle, who won the IBF crown against Manuel Medina later that year, later told Boxing News: "Early on in the fight I was thinking, 'Hang on, I thought he was supposed to be powerful'. There were nowt there in his shots.
"Then all of a sudden he hit me with a fucking shot. A real crispy shot and I was like, 'Fuck me.'"
Tragically, Ingle's career was cut short in 2000 – he almost died after a loss to South African Mbulelo Botile.
MIGUEL COTTO v RICARDO TORRES
September 24, 2005
Torres had less than a month to prepare – and nearly caused the upset of the year.
The Colombian – a late substitute for Gianluca Branco who emerged as a heavy-handed slugger – gave Cotto an almighty scare during their war in Atlantic City's Boardwalk Hall before being stopped in round seven.
The second saw him put the champion down for the first time in his career and he rocked him again in the fifth. However Cotto called on his own power to prevail in this incredible fight.
Nearly two years and four fights passed before he was allowed between the ropes with a puncher, Zab Judah.
FLOYD MAYWEATHER JR v DIEGO CORRALES
January 20, 2001
The duo were super-featherweight titlists when they met at the MGM Grand in Las Vegas.
After days of trash talk and split predictions – Corrales was expected to be Mayweather's toughest test – Pretty Boy proved a class above his physically bigger opponent.
He put him on the canvas five times before Corrales's corner called a halt to the bout in round ten.
It was an astounding display of speed, power and punishment from Mayweather whose victory – which remains one of his greatest – put him in pound-for-pound realms for the first time.
He said: "I just wanted to show who is the best in the world."
Four years later Corrales won an unforgettable lightweight unification with fellow Mayweather rival Jose Luis Castillo. He was killed in a motorcycle accident in 2007, aged 29.
FLOYD MAYWEATHER JR v RICKY HATTON
December 8, 2007
After a thrilling build-up, a majestic Mayweather performance in this welterweight super-fight left Hatton and his army of followers heartbroken.
Like his Corrales win almost seven years earlier, the climax was round ten.
Yet the knockout – that involved the face of Manchester's favourite son colliding with a ring post – didn't tell the whole story. Hatton troubled 'Money' Mayweather early on before the US superstar took control.
Much to the surprise of boxing aficionados, he outfought The Hitman on the inside, beating him at his own game.
Tensions were high even before the clash, with Mayweather getting under Hatton's skin.
The Brit later said: "Floyd has his way and I have mine, but there's a line between selling tickets and disrespecting the sport. What's the point of being the world's best fighter if everyone thinks you're a dickhead?"
*Note – I was born in 1986 therefore it didn't feel right to include The Fight of The Century or Sugar Ray Leonard versus Wilfred Benitez. There was no temptation to include Carl Frampton against Scott Quigg. Let me know your favourite unbeaten fights @MarcDeanie on Twitter or boxingtruth.net on Reddit.
Read analysis of Gennady Golovkin v Kell Brook
Read analysis of Sergey Kovalev v Andre Ward