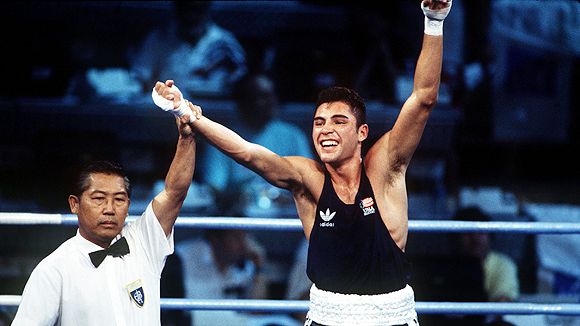 They all condemned it.
Everyone from Frank Warren and Ricky Hatton to Carl Frampton and Sergio Martinez. No wonder.
The AIBA's decision to allow professionals to compete at August's Rio Olympics – thus devaluing the amateur ranks – is a disgrace which serves only to line their own pockets.
Hearing the news infuriated many but it also evoked memories of the icons whose careers were transformed wearing an Olympic vest – guys like Roy Jones Jr, Mario Kindelan, Vasyl Lomachenko and Oscar De La Hoya, pictured celebrating at Barcelona 1992.
Born six years earlier, I owe a debt of gratitude to YouTube and its users for uploading priceless footage of Muhammad Ali, Sugar Ray Leonard, Howard Davis Jr and Pernell Whitaker on their gold medal journeys.
We can't forget the achievements of Britain's James DeGale, Audley Harrison and Amir Khan either.
Yet amid the outrage, I can't shake the feeling that most fans will tune into whatever the Games offers between the ropes.
It may be more circus than spectacle, but it's still boxing.