Before deconstructing the action, let's take a moment to consider the chaos.
A trainer booed for saving his boxer from a beating, a UK broadcast with a sound level comparable to the home fighter's chances of winning and an undercard weaker than Amir Khan's chin.
Welcome to Gennady Golovkin and Kell Brook, an event so clogged up by clusterfuckerry you could have ripped your eyes out.
Thankfully, beneath the Sky Sports shambles lay a brilliant bout.
Like many other observers, in what was hardly the most ambitious prediction, I tipped Golovkin to win early.
The preview read: "Not only is he the naturally bigger boxer, he is simply the better boxer. Golovkin, though far from elusive, has hitherto shown a granite chin against heavier hitters.
"Crucially, his punch diversity is complimented by rapid range-finding ability which I don't think Brook will be able to neutralise with his own foot speed.
"I see Sheffield's hero, tougher than some give him credit for, being lured into a tear-up the second he's hurt.
"Bravery could be the underdog's undoing. I'll be surprised if it goes beyond four rounds, stunned if it lasts longer than six."
Make no mistake, the 30-year-old was being taken apart by his opponent when Dominic Ingle threw in the towel in the fifth round [The IBF welterweight title holder is to have surgery on a broken eye socket in the coming days].
Rocked in the first round, he showed huge heart and remarkable ring craft to win the second, armed with right-hand leads and uppercuts.
From then on, the WBA, WBC and IBF middleweight champion dominated.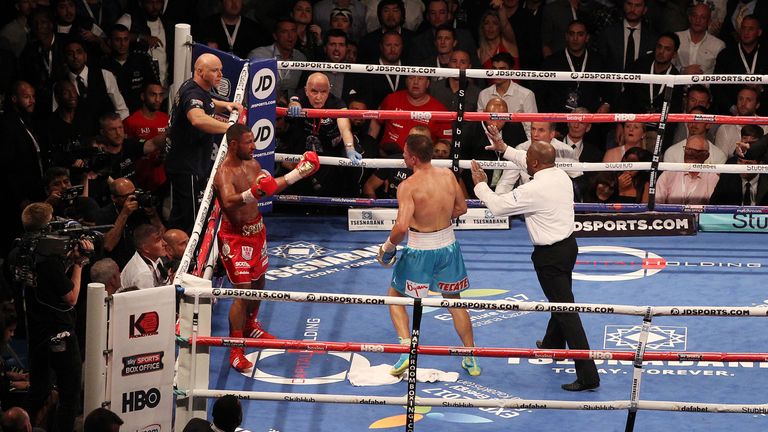 At first glance Ingle's intervention appeared appropriate yet on second viewing it looked premature; I'm always wary of hypercritical reactions to cornermen trying to protect their pugilists.
The great Bernard Hopkins, commentating at London's O2 Arena with HBO, was unimpressed.
Brook, 30, walks away with £3 million and a defeat that does more for his career than any of his 36 wins.
If he settles at light-middleweight, there are numerous options including the winner of Saul 'Canelo' Alvarez against Liam Smith this week in Texas. Khan's name, as always, is in the mix although he seems determined not share a ring with his long-time rival.
The Brit will go nowhere near Cuba's slick southpaw Erislandy Lara, the WBA ruler.
I suspect avoiding Errol Spence – his welterweight mandatory and one of the brightest stars to emerge from the US in quite some time – was always part of his plan too.
Saturday saw Kazakhstan's knockout artist extend his stoppage streak to 23, though only after looking more vulnerable than ever before.
He was wild on the front foot on several occasions and displayed disregard for defence throughout.
Maybe he underestimated his adversary, maybe he had little respect for his power. Afterwards, Golovkin called it a "three or four" out of ten performance.
Scrutinising an unbeaten fighter that, in the eyes of some, only lost one round en route to a fifth-round stoppage win may seem senseless but the 34-year-old has set high standards.
Barry McGuigan says he "might yet turn out to be the best middleweight of all time".
On March 10, 1986, 'Marvelous' Marvin Hagler was already one of the best boxers to ever grace the division when he took on unbeaten Ugandan puncher John 'The Beast' Mugabi.
A war unfolded, pictured below, with Hagler eventually prevailing in the 11th around.
There was a bigger picture – sat ringside with Michael J.Fox was Sugar Ray Leonard who saw enough flaws in the champion to finally give him the super-fight he insatiably craved. We know what happened next.
I wonder if Brook's ability to land combinations against Golovkin will have encouraged the 154-168lbs elite in a similar manner – guys like Alvarez, Chris Eubank Jr, Daniel Jacobs and Billy Joe Saunders, all accused of avoiding him in recent years.
Even Lara, 33, and James DeGale [namechecked as a potential opponent by Golovkin's promoter Tom Loeffler] may be tempted.
There is also Floyd Mayweather Jr, a man convinced the world's finest middleweight only shines against stationary targets with "no special effects".
Right now, Saunders – the WBO middleweight champion called out by GGG in his post-fight interviews – looks to be at the front of the line.
On Instagram, the 27-year-old said: "I will give the fans what they want to see and I saw faults and flaws in you that I know I can pick out.
"So like I said, biggest respect, you're an extremely good man.
"But let's see who is the best, for all of the belts."