It's less than two weeks until the light-heavyweight super-fight between Sergey Kovalev and Andre Ward.
The unbeaten duo clash on Saturday November 19 at the T-Mobile Arena in Las Vegas, with the Russian's WBA, IBF and WBO titles on the line.
In the second of a series of features on the pound-for-pound matchup, Boxing Truth looks at what previous opponents have said about getting in the ring with 'Krusher' Kovalev.
JEAN PASCAL
March 14, 2015, eighth-round stoppage
January 30, 2016, seventh-round stoppage
He says: "The most powerful man I've fought is Carl Froch, then Sergey in second.
"He has good power. I think Andre Ward might be smarter than him. Kovalev has big advantages with his power.
"He's probably in the top three best guys I've fought in my career.
"I think I have better skills than Kovalev but with his power he was able to neutralise everything that I can do."
BERNARD HOPKINS
November 8, 2014
Kovalev unanimous points win
He said: "You can't run from Kovalev and survive. He'll track you down because he's long and he's wily.
"Kovalev, and it's not something European fighters are known for, has good foot movement."
When asked what advice he would give Ward, he told fighthype.com: "Don't get hit by the right hand.
"I believe Ward has the ability to smother him and offset him and have all the skills to confuse him. He will have to do all those things to be successful.
"He has to disarm him the way I disarmed [Felix] Trinidad and his left hook. You've got to have tricks in the bag."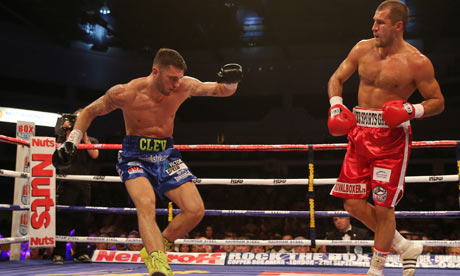 NATHAN CLEVERLY
August 17, 2013
Kovalev fourth-round stoppage
He told Boxing News: "Kovalev is a massive puncher. Each punch is like being hit by a sledgehammer.
"I suppose I wasn't surprised because with his record it was inevitable that he was a banger, every shot he threw was a thudding shot.
"He wasn't rapid fast. He had good timing, good distance and his punches were just so hard. His jab, his right hand. When he caught you on the shoulder he would have an impact and he was just clubbing me."
LIONELL THOMPSON
September 21, 2012
Kovalev third-round stoppage
He told thaboxingvoice.com: "He's a good fighter. He punched like a mule. I got caught with a good shot.
"On camera, he looks basic. In the ring he's very slick.
"He's good at cutting the ring off and keeping his distance. He cuts the ring off and punches at the same time. That's a very difficult thing to do.
"It's hard to have the snap in your punches while you're doing that.
"Wherever he hits you, it hurts. He's got good jabs to the body and a nice right hand."
DARNELL BOONE
October 9, 2010, split decision win
June 1, 2012, second-round stoppage
He told KO Digest: "The hardest puncher [I've ever faced] was Kovalev.
"He knows exactly how to use his height and leverage with punches. He keeps you on the outside, away from getting on the inside on him. He fights tall."
Of Kovalev-Ward, he said to boxingscene.com: "I'm rolling with Kovalev. Only because of Ward's inactivity and the way he's been looking in his last fights.
"He hasn't really been looking complete."