Tyson Fury's father John appears to be an aggressive fella. A real angry sort. Rough and unforgiving.
He's got the criminal conviction to prove it.
But he knows boxing. Of that there's no doubt. He fought professionally and raised the world's undisputed heavyweight champion.
That's why, instead of ridiculing his outburst last month about the media and the public's lack of respect towards his son, we should dissect his words. We should ask, genuinely, if he has a point.
"He's from the wrong background. If he was out of Peckham estate he would be having tea with the Queen Mother and being took round in an open-top bus."
Beneath the slightly erratic delivery lay basic facts about the contrasting perceptions of Tyson and Anthony Joshua.
Boxing fans usually crave genuine world champions. They are what we live for.
However regardless of how much Sky Sports and promoter Eddie Hearn tell us IBF belt holder Joshua is one, he ain't.
Has a British fighter ever walked a safer path to a paper title? I'm not so sure they have.
Foolishly, before Joshua's fight with Charles Martin, I thought people got it. I thought the majority, including those mad enough to pay £16.95 to see the fight, understood the American was the worst heavyweight to hold a title in living memory.
That he was the perfect opponent – undefeated, untested and malnourished in the talent department – at the perfect time paid a generous sum to travel to Britain for his first defence.
That it was the chance to crown London 2012 Olympic champion Joshua a world champion thus transforming him into a commercial treasure.
But the sycophantic reaction to Joshua's win said something completely different.
Sky and Hearn backed their man with hype and hurrah. Anything less would have amounted to a dereliction of duty on their part.
They hope, with intelligent matchmaking, Joshua will be their marquee fighter for years to come.
Good luck to them.
They are obliged to sell the Joshua story. Since when were we obliged to buy it so naively?
On our doorstep is the man of the heavyweight division, Tyson Fury. He became the man by beating the man, Wladimir Klitschko, in his own backyard. Sadly, the public's appreciation of this enormous achievement failed to match the scale of it.
Maybe that's down to Fury's imperfections as a human being. They are inescapable.
Maybe, like his father says, it is down to his traveller background. Are some fans uncomfortable supporting a fighter with the nickname The Gypsy King? Possibly.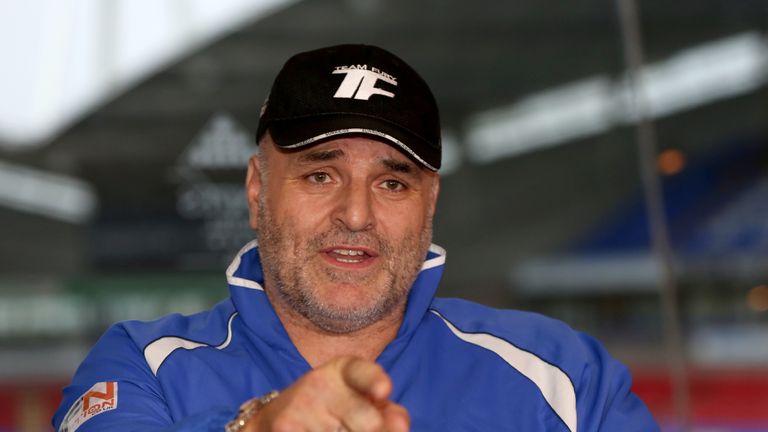 What makes me uncomfortable is the crusade to push the super-sculpted Joshua into role-model territory.
His imperfections will become clearer as the stakes get higher.
John Fury, pictured above, isn't the reason I've decided to blog about boxing. Neither is Tyson Fury, Anthony Joshua, Eddie Hearn, Frank Warren or Joshua's latest walkover Dominic Breazeale.
Boxing is the finest sport on the planet.
And stories from the fight game – whether they are about knockouts, poor points decisions, potential super fights or performance-enhancing drugs – should be told through the prism of truth.
At Boxing Truth, the analysis and comment does not rely on access to boxing's biggest names.
If they want to speak to us, great. If not, no problem.
We are not compromised.
There is no excuse for us falling short in providing an honest assessment inside and outside the ring.
Let me know your thoughts on Twitter @MarcDeanie.