As a chubby child, Kell Brook was ignored by Prince Naseem Hamed at Sheffield's celebrated Wincobank Gym.
He laughs: "I were that fat kid in the gym and I would've loved Naz to come over and give me the time of day.
"But to be honest with you he never did.
"I was the kid and he were the superstar doing his thing."
This weekend, two decades on, 30-year-old Brook enters the ring for a career-defining clash, one which represents the opportunity to finally eclipse the featherweight legend's achievements.
Opposite him is Kazakhstan's Gennady Golovkin – unbeaten like Brook but worlds away from every fighter the IBF welterweight champion has faced.
A quick Golovkin checklist illustrates the scale of the challenge awaiting him.
Knockout power in both hands? Indeed – 32 stoppages from 35 fights. Jab? The best around.
Take a shot? Golovkin, trained by Abel Sanchez, has never been on the canvas as a professional and insists he never touched down in the amateurs either.
His is a style impeccably honed in the non-paid ranks where he won world championship gold in 2003 and Olympic silver in Athens a year later.
Martin Murray, above, who went 11 rounds with the 34-year-old in 2015, says: "The thing that got me was his variety. I didn't know where the shots were coming from."
Matchroom's Eddie Hearn shocked the boxing world when he announced Golovkin-Brook in July after plans for the middleweight ruler to take on Chris Eubank Jr fell through.
At the time, it felt like a mismatch and I haven't changed my mind.
Nevertheless, all parties involved have done an admirable job of hyping the pay-per-view event.
Hearn told Boxing News: "Brook is the best opponent he's faced in my opinion."
He added: "Just base it on their ability and forget welterweight and forget middleweight.
"Imagine they are both the same weight and then make your decision. I know the majority would still back Golovkin, but don't make your decision because of the weight because that is definitely not an issue."
The first part of Hearn's argument is understandable.
Brook is an accomplished operator armed with an astute jab, under-rated punching power and a decent chin.
His finest win came in 2014 when he travelled to the US to dethrone Shawn Porter, then unbeaten and still among the sport's most exciting fighters.
Porter is rough yet the Brit, helped by trainer Dominic Ingle's tactics, spoiled sensibly and refused to be pushed around.
The key weapons were the jab and straight right hand, a punch Canada's former IBF middleweight title holder David Lemieux was able to land on Golovkin last year; to Lemieux's despair, he did not flinch.
Brook was wobbled in 2013 by an over-hand right from Vyacheslav Senchenko and critics point to that punch as an indication of what may happen on Saturday.
The same goes for the Carson Jones crisis, pictured below, a year earlier.
His fans are entitled to point out the only time he has been on the floor as a pro was against Karl David nearly a decade ago.
However the harsh reality is that Brook, especially susceptible to the left hook in the exchanges, has never felt middleweight power.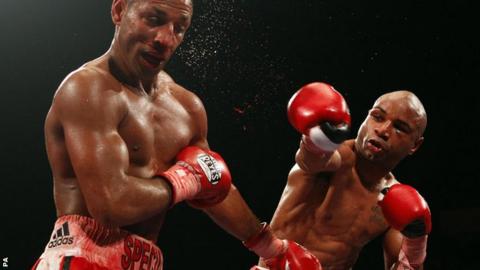 Jo Jo Dan, Frankie Gavin and Kevin Bizier do not prepare you for such trepidatious occasions.
Understandably, his ascent to middleweight [this is his first bout in the division] has been likened to Amir Khan's challenge of Saul 'Canelo' Alvarez.
Before their encounter in May, I wrote: "As upsets go, it would be a corker.
"Maybe not quite James 'Buster' Douglas of 1990, Mike Tyson, Tokyo proportions, although not far off it."
A Brook win on Saturday, for me, would sit slap-bang in the middle of Douglas territory.
But not everyone buys into the Golovkin hype. Last year Floyd Mayweather Jr questioned why he hadn't moved up to super-middleweight where Andre Ward was interested in meeting him.
Mayweather told fighthype.com: "He [Golovkin] is good with a stationary target in front of him.
"When he's fighting a guy that's straight up and down with no special effects, is he good? Absolutely!
"Do I think Triple G can beat Andre Ward? Absolutely not!"
Will he stop Kell Brook? Of that I am certain.
Not only is he the naturally bigger boxer, he is simply the better boxer.
Golovkin, though far from elusive, has hitherto shown a granite chin against heavier hitters.
Crucially, his punch diversity is complimented by rapid range-finding ability which I don't think Brook will be able to neutralise with his own foot speed.
I see Sheffield's hero, tougher than some give him credit for, being lured into a tear-up the second he's hurt.
Bravery could be the underdog's undoing.
I'll be surprised if it goes beyond four rounds, stunned if it lasts longer than six.
****
One of Brook's sparring partners has been Liam Smith, the WBO light-middleweight champion who takes on Alvarez next weekend.
In a recent Reddit AMA he told me Golovkin was his favourite fighter.
He said: "You know what you're getting out of him. He's not one to kid the public. He won't say he's gonna fight and then box off the back foot."
****
"It is not respect to boxing…this is business fight."
Those were the words of Golovkin after being asked his thoughts on rival Alvarez's bout with Khan earlier this year.
The message was clear in this particular radio interview – the Mexican should not have been fighting a guy who campaigns two divisions below his.
So here we are, almost four months later, about to watch the middleweight king enter the squared circle with one of the world's top welterweights.
In Golovkin's world, it appears a $5 million purse eases the pain of being called a hypocrite.
Facing Gennady Golovkin – What Opponents Say About GGG
Golovkin v Brook – The Stakeholders