"I don't have affiliations…I think I'm one of the only pundits who really says it as it is."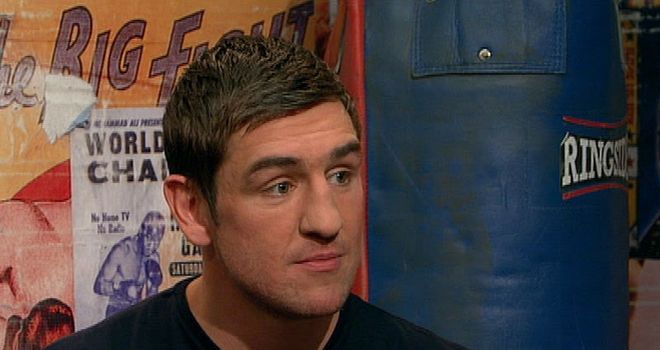 'Amazing' Alex Arthur was one of the most exciting British fighters of his generation. The man from Edinburgh grabbed gold at the 1998 Commonwealth Games in Kuala Lumpur before enjoying a glittering career in the paid ranks winning British, European and WBO super-featherweight titles. He outpointed future world champion Ricky Burns and also lost an unforgettable domestic clash with Michael Gomez. In recent times the 37-year-old – trained by Freddie Roach in the early 2000s – has become a popular pundit on Sky Sports.
What's a normal day for you Alex?
On a day-to-day basis I'm a full-time dad. I still spend a lot of time training – I train twice a day. After I retired I put on a lot of weight and I got really, really fat. I had a break of about four months and I went up to something like 91kg [Arthur fought at the 59kg limit]. My old injuries started to come back. My old physio told me I was fat and as I started to train, and eat properly to fuel my training, I started getting in really good shape and my body responded really well. As I got in shape, it became addictive. Other than that, I train sometimes with my friends at either the Meadowbank or Leith Victoria boxing club. It passes the time. My wife still works so I pick my kids up with school. I do a wee bit with the BBC and wee bit with Sky every now and then.
You've received good feedback on social media for your work on Sky Sports. What's the situation with them?
Sadly I'm not doing as much as I was before. I was a regular on the Ringside show and it looked like they were lining me up for one of the big jobs, but sadly that's gone away. They only use me every now and then, much to the public's dismay. The public really like me. They like my views and my outlook on boxing. I've not had one bad bit of feedback on Facebook or Twitter. Everybody loves hearing me. If you look at Twitter, you'll see them constantly badgering Sky and the Sky bigwigs about putting me on full time. That's positive feedback and I like to hear that. Most people know I don't beat about the bush. I'm a boxing man through and through. I've been in the fight game since I was ten years old and I don't have affiliations to anyone like most other people in the sport right now. I've not got ties to Matchroom or to Sky or to Frank Warren or anybody. I think I'm one of the only pundits that really says it as it is. In terms of my stuff with BBC radio, that's a couple of times a month. I really enjoy that.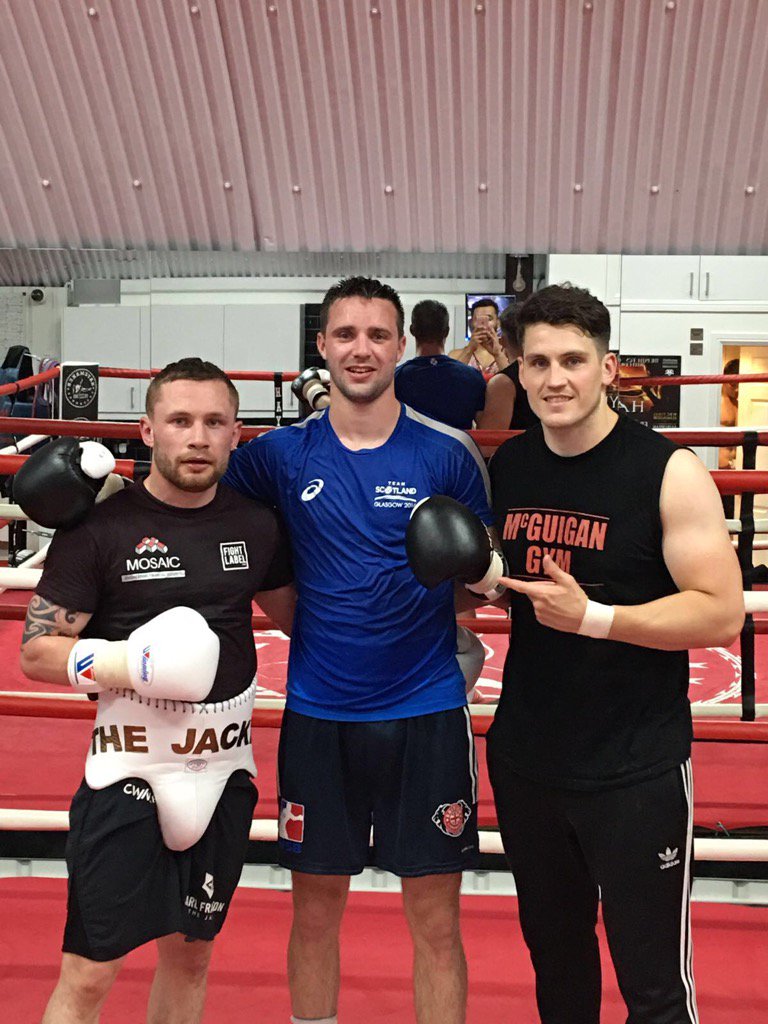 Josh Taylor [Carl Frampton's stablemate pictured above, also managed by Barry McGuigan] – how good is he?
He's fantastic. He can be a top, top champion. There's another young lad called Lee McGregor [amateur bantamweight out of Meadowbank ABC] who is absolutely brilliant too. Only 19 years old. He's an Edinburgh boy as well and a tremendous young boxer, unbelievable. They can both fight at world level, I have no doubt in my mind about that. They have all the tools. If they do everything right, listen to their team and stay focused and disciplined they'll be really successful.
Who excites you in the professional ranks at the moment?
I'm a big Canelo fan. I love his technique and I love the patterns in which he fights. They're so familiar to me. They remind me of watching the great Mexican fighters back in the day. Golovkin is great too. I enjoy watching Frampton too. I know Carl and he's becoming a great boxer. Floyd Mayweather, in my eyes, is still the best fighter in the world. I don't think he'll stay retired. He's probably the best since Julio Cesar Chavez Sr.
Michael Gomez – how often are you reminded of that 2003 fight?
It's unbelievable, people watch it even now because Sky Sports still keep showing it. It's a shame that a lot of people remember me for that fight when I had so many great fights on Sky. Listen, it's a fantastic fight. All the fighters tell me it's the best fight there's been in the UK for the past 20 years or so and that's an honour for me. I lost the fight but I showed courage when people thought I was a huge-punching golden boy who'd just been manoeuvred there. Nobody knew how tough I was and how big a heart I had and I showed that in the fight. What a lot of people didn't know was that in the run up to the fight I was actually really unwell. I had no intentions of pulling out the fight though. I thought fighting was the right thing to do. I had a horrendous time making the weight – I lost seven and a half pounds on the morning of the weigh-in and I'd already been in bed for four or five days. I didn't consume any solid food as I had a viral infection and a gland in my throat. It was so swollen and there was loads of poison coming out of it. It was going into my system and I wasn't able to bring it up so I was on a strong course of antibiotics. They're known to give you water retention. As I was lying in bed the week before the bout, I was drinking ice water and my body held it all. The morning of the weigh-in I had to get that weight off and that left me like an absolute shambles. I was fighting for British titles at that time, getting paid a lot of money by Frank Warren and I was live on Sky television, everything was going really well for me. The fact I thought I could still win that fight showed me how bad my ego was at the time and how cocky I was. Maybe I did need a kick up the arse. I took a lot away from it and showed more character than people thought I had.
Did you grow to dislike the 'Amazing' nickname?
I did a wee bit. People still use it and it stuck with me. My brother gave me it when I was young after an amateur fight. The media asked him what he thought of my performance and he said: "He was amazing." And that was that. I took it with me right until the end and if I sign autographs, I still sign it.
Was a fight between you and Scott Harrison ever close?
We were actually a team – we were sparring partners and had been since we were teenagers. A lot of people don't realise that. We knew each other really well and sometimes I'd get the better of him, and sometimes he'd get the better of me. I decided to leave the camp when I saw flaws in the team. Peter [Harrison, Scott's father and trainer] was having a wee bit of trouble with Scott who wasn't quite behaving well. I would turn up to training camp, with a British title fight coming up, and they'd vanished to Spain to train. No disrespect to Billy Nelson at all – Billy's a good trainer and he was taught by Peter, taught by the best – but I would be left in Glasgow with Billy when I was paying Peter Harrison to be my trainer. I also had a lot of trouble with my back around that time and a lot of people said I used that as an excuse to leave the camp. It wasn't the case. I had a slight curve in my spine and it was causing my pelvis to tilt, hitting on my sciatic nerve. Getting in a car before and after training, and driving 100 miles, was messing up my body's mechanics. My physio told me it'd be best to stop doing the drive. Peter Harrison was never going to come to Edinburgh to train me so that was the reason I left.
What are your memories of being trained by Freddie Roach?
I think I was one of the first to do it and making trips to the Wild Card gym has become a bit of a tradition with boxers from the UK now. Bernard Dunne [Ireland's former WBA super-bantamweight champion and close pal of Arthur's] chose to move his whole life there. Bernard was always at me to come over to train and spar with the great fighters. I took my first trip to the Wild Card in 2002. Training camps go there now to train at Freddie's and it's something I feel I started back then. Freddie even came here to go in my corner for the Willie Limond fight. Unfortunately for me, his ties to Manny Pacquiao made it difficult and regular trips to the US were tough on me and my young family. The fact Freddie could never come back to me made up my mind that it was probably best to split.
Given what he's gone onto achieve, how good does your win against Ricky Burns look now?
It was brilliant. I say to lots of people, Ricky Burns would never have been able to beat me, ever. It doesn't matter what stage, what phase. I always had an edge over Ricky. I know his style so well and I fought guys from the Barn [Coatbridge's Barn Boxing Club] my whole career. I knew how to take away his jab and when I got close to him, I knew how to open him up. That's what a lot of people didn't get. No matter when we fought – I don't care what any promoter or any trainer says – Ricky Burns would never have been able to beat me.
Follow Alex on Twitter @AlexArthur1