"Floyd Mayweather is a good guy…he doesn't get the props he's due."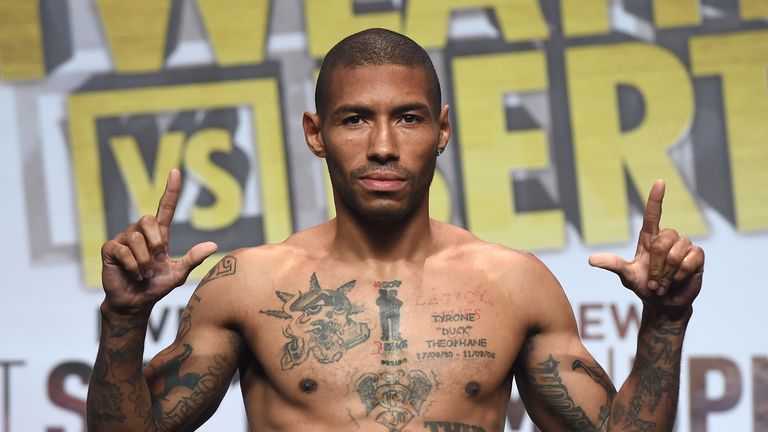 Ashley Theophane – the only British boxer on the books of Floyd Mayweather Jr's Mayweather Promotions – is in action in Las Vegas on Friday.
The Londoner returns to the ring for the first time since losing by ninth-round stoppage to Adrien Broner in April for the vacant WBA light-welterweight title [the belt now belongs to Ricky Burns].
It was arguably the biggest fight of a fascinating career which has taken him from small hall bouts in the UK to shows in the US, Germany, Luxembourg and Saint Lucia.
Ashley's record also includes clashes with world champions past and present, DeMarcus Corley and Danny Garcia.
I spoke to the 36-year-old ahead of his latest bout; the opponent has yet to be confirmed.
Click here for ticket information.
What's a normal day for you Ashley?
I live in London but come to Las Vegas for training camp. A normal day would be road work, boxing and strength work. Some days I do Bikram yoga instead of running. When I'm in London, I do my strength work at Equilibrium in Holland Park. It's just maintaining a basic level of fitness.
What are your hopes for the rest of the year, and 2017?
I'm headlining at Sam's Town Casino on Friday in Las Vegas. So right now, I'm focused on getting my 40th professional win [Ashley's current record is 39-7-1]. Next year the ultimate goal is to challenge for the world title. That's always been the goal. It just took 13 years to get to it [against Broner] but my career shows you should never give up and you should always believe in yourself.
You were at the super-fight between Sergey Kovalev and Andre Ward – what were your thoughts?
It was a good fight – the best fighting the best. I thought Kovalev won it, or a draw. That's boxing politics for you. It was a fight of two halves. Ward did great to come back.
There are close decisions and there are robberies – what category does your 2010 split-decision loss to current WBC welterweight champion Danny Garcia fall into?
I don't really think about that fight. My three losses in the UK [on points to Darren Hamilton, Oscar Milkitas and Judex Meemea] and were robberies though. The Danny Garcia fight was close. Without that loss I would never have got to fight the world number three and been ranked fourth in the world, so everything happens for a reason. And people in boxing know who really won. I was the opponent – he was the hot prospect with a big-time promoter. The only way I could win was by a KO. That's boxing for you. Life goes on.
Did you learn a lot from that fight and did you anticipate he would go onto achieve such success?
There was nothing for me to learn from fighting a 15-0 prospect. It was just another fight for me. The lesson was for him. I could've gone in for the kill but I felt like I'd won.
You came up the hard way on the British circuit – how well did that prepare you for elite-level boxing?
I was always an outcast in Britain so the only thing it did was show me that this sport is tough. Nobody does you any favours and promoters will use and abuse you if you let them.
Who inspired you to pull on the gloves?
Mike Tyson back in 1985 – I'd watch him with my father. I knew I wanted to fight and train in America. That was always the goal. I'm proud of myself that I had a dream as a five-year-old boy and I'm 36 now, still living that kids' dream.
What ranks as your proudest moment in the sport?
Being British light-welterweight champion [Ashley won it in 2011 against Lenny Daws and successfully defended it twice, against Jason Cook and Ben Murphy] and fighting and winning in five countries. Signing with Mayweather Promotions too. I've also fought on three of the biggest cards ever at the MGM Grand. Everything is because of hard work and sacrifice. I've had no favours and earned everything I've accomplished.
You've been in with Broner, Garcia and Corley, as well as world title challengers Delvin Rodriguez and Pablo Cesar Cano. Who's the best you've faced?
Those are some good names. Pablo was the hardest puncher I've faced. The fittest was maybe Lenny Daws.
How close are you to your stablemates Badou Jack [WBC super-middleweight champion] and Ishe Smith [former IBF light-middleweight titlist]?
Those guys are my best friends on the team. We communicate most days.
Describe the Mayweather influence on your respective careers.
Without Floyd, none of them would've become world champion and I wouldn't have challenged for the belt. Everything he's promised me, he's backed up. He's helped Ishe and Badou at their lowest moments. So Floyd is a good guy that doesn't get the props he's due but anyone who knows him personally knows how he is. I met him five years ago and have been part of his team for four. I just extended my contract with Mayweather Promotions for a further three years so hopefully I can finish my career here.
Out of the sport's current stars, who do you like seeing?
I don't see a lot of boxing but Vasyl Lomachenko, Shawn Porter and Badou are guys I enjoy watching.
KOVALEV-WARD – A BRILLIANT BOUT LOST AMIDST HYSTERICAL 'ROBBERY' CRIES