"I've had good times and bad times in my life…I don't have regrets."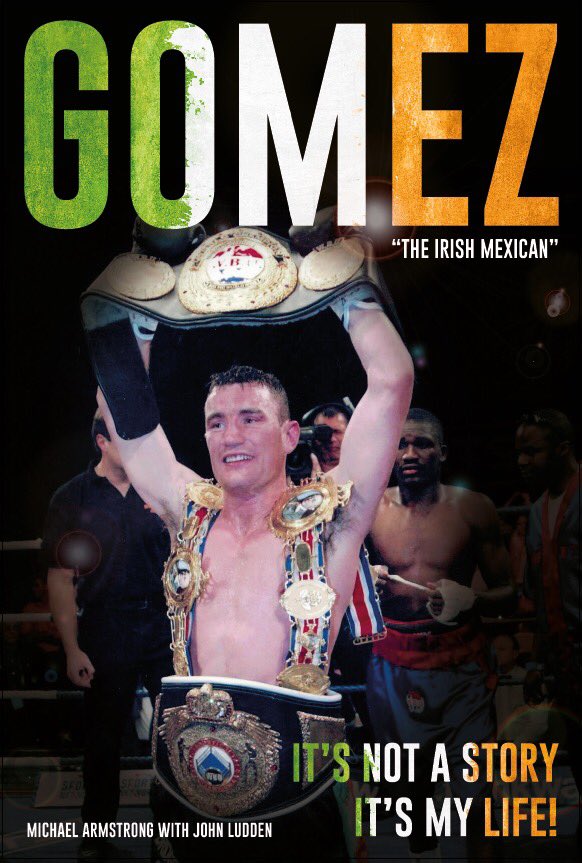 The story of Michael Gomez, explored and relived in his forthcoming autobiography, is an extraordinary one which first captured British public's imagination in the late nineties.
Born Michael Armstrong to traveller parents in a crashed car in Ireland, he became a two-time British super-featherweight champion, fighting future world title holders Amir Khan, Ricky Burns and Alex Arthur along the way.
Outside the ring, he conquered adversity on several occasions.
Gomez, raised in Manchester care homes, ended up on a life-support machine after a road smash and almost died after being stabbed outside a pub.
The 39-year-old also had to cope with the loss of younger sister Louise who died from sudden infant death syndrome.
In 1996, he was charged with the murder of Sam Powell following a gang fight outside a nightclub but later cleared of manslaughter after it was ruled he acted in self-defence. Powell – one of seven men clashed with Gomez and two friends – died after his head hit the pavement as a result of a blow struck by the boxer.
I spoke to The Irish Mexican about triumph and tragedy, and today's stars, ahead of his book's October 3 release.
Click here to pre-order Gomez: The Autobiography by Michael Armstrong and John Ludden. Alternatively, go to empire-uk.com
Did you enjoy retracing your steps for the book with John [an acclaimed sports writer and author]?
Yeah I did. I've had good times and bad times in my life. I had some days off because I was upset at bits and there were other bits when we were laughing all day at some of the stuff that took place. That was really enjoyable.
What was your favourite part of the process?
I won two British titles beating Gary Thornhill who is a very good friend of mine, and Alex Arthur in the fight everybody knows. Going through both of those fights, and the preparation for them, really brought the emotions back.
What was the toughest part?
The passage about Sam Powell, the kid I got into a fight with who banged his head and died. Trying to talk about that was hard and I had a couple of days off crying. That broke my heart. So did talking about my little sister who died too. We got through it.
Tell us about the name change from Armstrong to Gomez.
There was another guy in the gym called Michael Armstrong so they said I had to change my name. I decided on picking Gomez. I was going to pick Michael McGuigan after Barry McGuigan. Barry was a favourite of mine growing up. We ended up going with Gomez after Wilfredo Gomez [Puerto Rico's legendary three-weight world champion, pictured above]. He was a great fighter.
Who were the inspirations throughout your career?
Billy Graham was a big influence who really pushed me on and so did Brian Hughes. The lads in the gym I got to train with were brilliant too, guys like Robin Reid and Ricky Hatton. At Billy's place it was me and guys like Ricky Hatton and Matthew Macklin. We knew when to have a laugh and a joke and we knew when to be serious. Billy was a good trainer and Kerry Kayes was a good conditioner. They both did top jobs on us. I don't keep in touch with Ricky but I'll sometimes see him out and about. We have a drink when we see each other.
How do you spend your days?
I go out partying at the weekend but through the weekdays I try and run, and get myself fit in the gym. I like coaching young kids. I like helping my son [Michael Gomez Jr] who's unbeaten in five now. It's really nice to see him doing well. He's got a lovely temperament. He knows how to dig deep and he's dedicated which is very good. I'm taking a step back though. If you get too involved, it causes arguments, especially if there's money there. It can split families up. If he needs me, he knows I'm here. I can advise him on good things and bad things.
Where does the Alex Arthur fight, pictured above, rank among your finest moments?
It was a cracking fight, one of my best wins; Gary Thornhill first then Alex. It's a massive win that everyone talks about. The mad thing is, when Alex was trying to get in the ring I was head-butting him. At the press conferences I was attacking him. I'm such good friends with Alex now though, and Gary too. Billy Graham got me to watch Alex Arthur against Patrick Malinga, a couple of fights before ours. Alex made a comment about my dad and that's the reason I trained so hard.
Did you always know Amir Khan was chinny [Michael put Khan on the floor in the second round of their bout in 2008]?
I don't think it's his chin – it's the top of his head. Craig Watson put him down in the amateurs. Breidis Prescott caught him. There is no denying he is a great fighter with amazing hand speed. But he's got massive, massive vulnerabilities. If I'd have been five or six years younger they wouldn't have put him in the ring with me and they wouldn't have put Ricky Burns in the ring with me [this was Gomez's last fight]. Dean Powell, God rest his soul, saw me in sparring and knew it was gone. I knew it was gone. But I couldn't admit it to myself and I tried to hide it. Ricky's a lovely guy and he is a great fighter. He beat an old Michael Gomez though. I was hanging onto dreams of boxing. Deep down it was over. I don't think he'd have beaten me in my heyday.
Do you have any regrets about your career?
I don't have regrets. I've got to live with the fact I never took the game seriously. I was always partying, messing about with women and taking cocaine which is stupid really. That was the way I was brought up. I was brought up a wild kid and that carried on through my career. It's over now and I've got a lot to look back on. People always recognised me and wanted to buy me a drink when I was out. I'd say that I'd do six weeks training for a fight then it'd be five, then four and then before I knew it I had a week to take two stone off. It was stupid.
Which current fighters do you enjoy watching?
I'm a massive fan of Anthony Joshua. He's not just a big lump – he's a big flexible kid. Frank Bruno was a big lump, no disrespect to him. Joshua looks brilliant. Kal Yafai is also doing well, I like that young lad. He's a cracker.
What impression do you want the book to have on people who read it?
I want them to keep pushing for their dreams whether it's football, boxing or their exams. It can happen. I was born and raised in caravans and I won two British titles. When people hear how I was brought up they say, 'You had it hard!' I enjoyed it you know. My mum and dad did the best they could for us. The only person I can blame for anything that happened in my career is the man that looks back at me in the mirror.