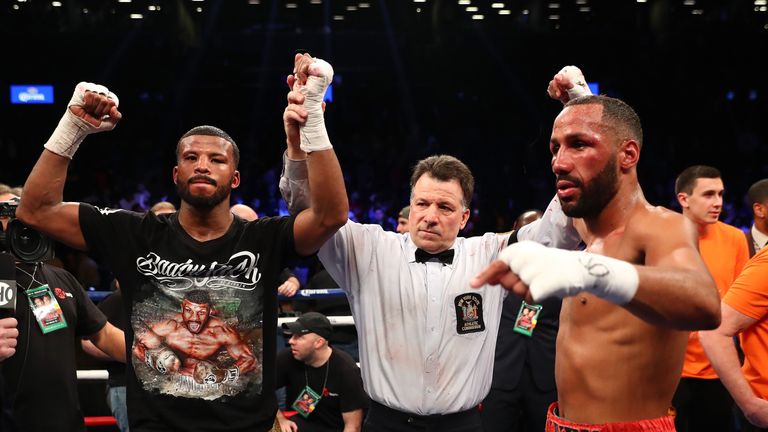 The pick for Badou Jack had been tentative.
In the early hours of Sunday, shortly before he and James DeGale entered the ring, I messaged a fellow fight fan saying: "I just don't trust Chunky over 12 rounds."
Londoner DeGale, to a significant degree, came of age in their super-middleweight unification war.
With his faced bashed up, teeth missing and body battered, he got through what was, by some distance, the biggest crisis of his career.
His survival skills at the death were simply astounding, evoking memories of the ring nous used by Amir Khan's in the tenth round of his 2010 bout with Marcos Maidana.
Though given the reaction in some quarters, you'd have been forgiven for thinking his New York adventure was the equal of Ken Buchanan dethroning Ismael Laguna in Puerto Rico.
DeGale versus Jack proved a brilliant battle.
However I can't help but see it as another missed opportunity for the IBF title holder.
For my money, WBC champion Jack edged it thanks to a sensible strategy – to expose DeGale's vulnerability to the body – and a solid high-guard defence which blocked many of his opponent's flurries. The cleaner, more hurtful shots were undoubtedly his.
The 33-year-old Swede's improvement in recent times has been immense, solidifying his world-level credentials.
Nevertheless, if we are to judge DeGale on his talk of super-fights with Gennady Golovkin, Andre Ward, Sergey Kovalev and Adonis Stevenson, and his talk of emulating Joe Calzaghe, the weekend's result is disappointing.
I would feel nervous watching him in the ring with Sullivan Barrera and Jean Pascal let alone the aforementioned quartet.
Given he and Jack's reaction to the majority draw decision, I suspect the 2008 Olympic gold medallist knew he'd got lucky.
The big talk in the build-up centred on his use of a strength and conditioning coach for the first time and while his physique changed for the better, old problems remained.
Rogelio 'Porky' Medina [stopped by Jack in 2013] gave him nightmares to the body last April. Five months earlier, Lucian Bute hurt him there in his first title defence.
Unsurprisingly, it was an area Jack focused on to great effect.
And the reality is that, just like Khan's chin, DeGale's body will be exploited by any elite boxer he faces.
****
Today's super-middleweight division is one of the poorest in the sport and with Jack moving up to light-heavyweight, DeGale must look to explore domestic opportunities.
George Groves, trained by Shane McGuigan, won't have any sleepless nights over his rival's performance.
The easiest sell would be a clash between Chunky, 33, and Chris Eubank Jr.
WHY SERGEY KOVALEV OR ANDRE WARD SHOULD BE FIGHTER OF THE YEAR, NOT CARL FRAMPTON