Floyd Mayweather Jr wants matched against a blown-up featherweight who can fight at welterweight? Sounds about right.
A guy from another sport though, who is coming off an embarrassing defeat?
That also sounds on the money.
As the five-weight world champion's dalliance with Conor McGregor – slightly pathetic yet strangely captivating – is quintessential Mayweather.
In a high-risk industry, he has always been a low-risk operator. Maximum dollars, minimum dunts.
Take his 2006 matchup with Zab Judah.
It went ahead despite Judah losing a decision to Carlos Baldomir, one of the weakest world champions of recent times, three months earlier.
Mayweather dazzled and destroyed Arturo Gatti the year before. Some considered it a career-defining win. Others, rightly, opted to take into consideration the six losses on Gatti's record which included two stoppages.
The peaks of Manny Pacquiao, Miguel Cotto, Shane Mosley and Oscar De La Hoya were long gone by the time the American deemed them suitable opponents.
A purported clash with UFC's McGregor – stopped in March by a journeyman who had just 11 days to prepare – makes those collisions look perilous.
In the context of pugilism, Mayweather has displayed infuriating levels of risk aversion in recent years.
But as his bank balance snowballs, the number of observers willing to properly scrutinise his record diminishes.
When May 2, 2015 arrived, every single smidgen of danger had been sucked out from the historic Pacquiao fight.
The style of Mayweather's triumph was admirable.
The real disappointment was the timing of the event, arguably five years too late.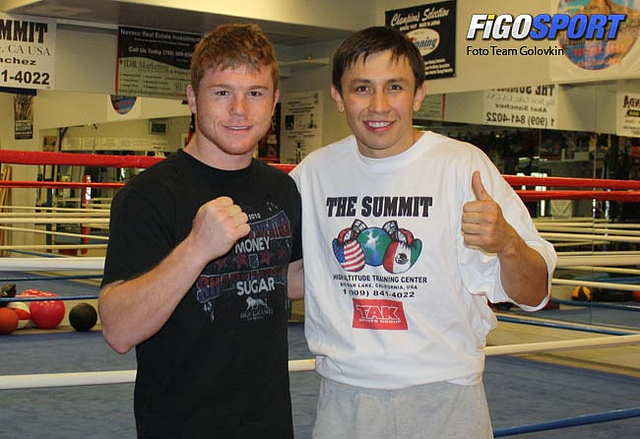 He reinforced his image as boxing's risk hoover again this week when asked about the possible clash between Saul 'Canelo' Alvarez and Gennady 'GGG' Golovkin, pictured above during a sparring session in 2011.
He said: "If I was Canelo's promoter, I wouldn't even fight Triple G. Canelo don't need Triple G, Triple G needs Canelo."
Boxing needs both middleweight superstars – and it needs them together between the ropes.
The sweet science suffered in the aftermath of Mayweather versus Pacquiao. Unsurprisingly, so did their pay-per-view numbers when they climbed in the ring for swansongs with Andre Berto and Timothy Bradley.
The sport needs to hit back with a spellbinding super-fight. It's not the one Floyd Mayweather is proposing.
****
Don't rule out seeing Mayweather back in the ring in September opposite WBC welterweight champion Danny Garcia. That bout has been talked about for the past two years.
Garcia, 28, hasn't fought since January and his next opponent is yet to be announced.
The elder statesman may also fancy returns with Pacquiao and Alvarez, although I'm not sure fans would share the enthusiasm.