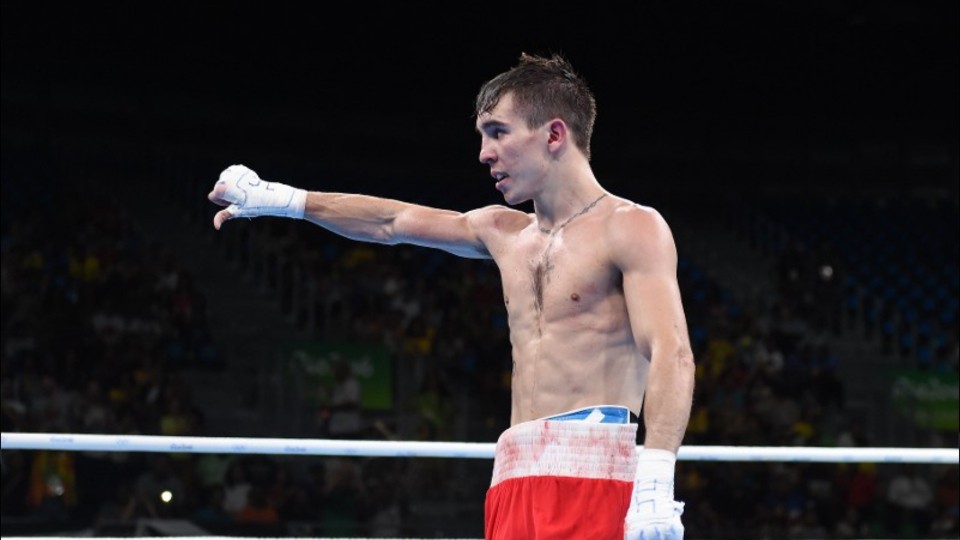 With artistry and brutality in equal measure, this summer's Olympic boxing represented a sport at its best.
Gone were the head guards and an indecipherable scoring system; change, on this occasion, seemed to be contributing to an excellent tournament.
That was until this week and a series of catastrophes which obliterated the reputation of the non-paid ranks and its officials.
The dreams of Vassiliy Levit (Kazakhstan), Michael Conlan (Ireland), pictured above, Gary A Russell (USA) and Joe Joyce (Great Britain) were ripped apart by the most scandalous officiating since the Roy Jones Jr travesty of Seoul 1988. Appalling judging born out of corruption, not incompetence.
The Guardian's chief sports correspondent Owen Gibson warned the world about it on August 1.
Three weeks on, the amateur game lies disgraced and discredited.
Fans will debate which of the aforementioned quartet suffered the greatest injustice. Many think bantamweight Conlan, whose 'defeat' to Russia's Vladimir Nikitin provoked the most indignation.
I say Levit, conned in the heavyweight final against Russia's Evgeny Tishchenko. For my money, he won every round of their encounter.
Instead of standing on the podium, proudly draped in silver, Tishchenko looked embarrassed and ashamed as he was forced to endure the ignominy of crowd booing during the medal ceremony. It was horrible to see.
The reality is, at this tournament, everyone was robbed. The fighters of their lifelong ambitions, the sport of credibility and its followers of legitimate results.
Fans may have got a brilliant bantamweight final between Cuban wizard Robeisy Ramirez, 22, and American prodigy Shakur Stevenson but they were deprived of a silver medal matchup between 19-year-old Stevenson and Conlan, 24.
After Joyce's split-decision 'loss' to French super-heavyweight Tony Yoka, Conlan said on Twitter: "Hard luck @JoeJoyce_1 you're not the first and you'll not be the last."
Ask Ramirez's compatriot Erislandy Savon, the man stitched up in London 2012's last 16 against Anthony Joshua.
At the time Jeff Powell, of the Daily Mail, wrote: "Even the fiercely partisan home crowd seemed to sense the injustice.
"The deafening roar which greeted the much-hyped Joshua into the ring had dwindled to a relieved and faintly embarrassed cheer by the time the result was announced."
The Sun's Colin Hart, the doyen of boxing writers, reported: "I am convinced Anthony Joshua would not have won the super-heavyweight gold medal had the 2012 Games not been held in London. There is little doubt he was the beneficiary of a blatant hometown decision in his first bout. He was clearly outpointed by Cuban Erislandy Savon, who was much faster and more skilful."
But many of those denouncing the Joyce result will have celebrated Joshua's victory four years ago. Hypocrisy tends to reign supreme when British boxers step into the squared circle.
Maybe fans on our shores, and those covering the sport, need to be more consistent too.
Ultimately, Olympic boxing's governing body AIBA – portrayed in Gibson's Guardian report as an organisation under extreme financial strain – will disappear from the public consciousness for another four years.
Shameless in our minds, blameless in theirs.
There is an argument that elite amateur fighters may now be more tempted to enter the paid ranks rather than risk Olympic heartbreak. I'm unconvinced; the Jones Jr scandal didn't discourage Oscar De La Hoya and Floyd Mayweather Jr from gracing Barcelona 1992 and Atlanta 1996.
However if this scenario did transpire, Tokyo 2020 would be yet another victim of the fight game's Rio robberies.