The stars of the featherweight division are back, in what represents a rare display of common sense from the boxing world.
It would have been a travesty had Carl Frampton and Leo Santa Cruz gone in different directions after their first clash in July, a majority decision win for The Jackal and arguably fight of the year.
Like every fan of the sweet science, I'm ecstatic they meet again on Saturday in Las Vegas.
Last time around, I tipped Santa Cruz, 28, to win.
The preview read: "If he starts well – in contrast to his opening against compatriot Abner Mares in their thriller – Barry McGuigan's protégé may face the toughest night of the year.
"The Northern Irishman must not be lured into a toe-to-toe battle.
"Santa Cruz is in his element in the exchanges and he will not be hesitant, a la Scott Quigg versus Frampton, when it comes to letting his hands go with hooks and uppercuts."
It played out how most aficionados imagined.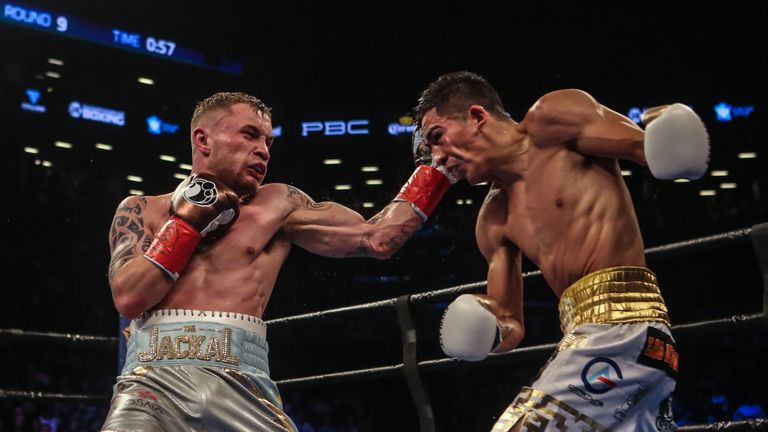 The real surprise was Frampton's threat in the toe-to-toe exchanges.
Not only did the 29-year-old – trained by Shane McGuigan – hurt one of the sport's finest sluggers [in round two], he out-brawled him at times.
Strange it may sound, yet three-weight world champion Santa Cruz fought incredibly too, troubling Frampton to the body and catching him cleanly upstairs with left hooks and straight right hands.
Afterwards, I wrote: "Santa Cruz was defeated for the first time when, in reality, he lost so little."
Like the light-heavyweight super-fight between Sergey Kovalev and Andre Ward, this was a tough scrap to call. You couldn't argue with a draw or a point either way.
Frampton thinks he will win more comfortably on Saturday, citing his second encounter with Kiko Martinez [in 2014] as an example of his second-time skills.
The former IBF and WBA super-bantamweight champion knows he can hurt his opponent and land at will with uppercuts and check hooks.
Last year's build-up was tough for Santa Cruz.
The Mexican's trainer father Jose was diagnosed with bone cancer during camp [his brother Antonio prepared him] and he came close to pulling out of the fight.
With Jose's cancer in remission, normal service has resumed in the gym. Santa Cruz, understandably, feels he is in a much better place going into the rematch.
To win, he has to hurt Frampton. However, with 18 stoppages from 32 wins, does he have the power? The Belfast hero is a smart fighter and may try to avoid the toe-to-toe action fans enjoyed in New York.
He insists: "I think it will be more comfortable this time."
Separating them has been a nightmare.
I envisage Frampton boxing on the back foot, using his excellent jab, to begin with before being drawn into another brawl.
I'm certain El Terremoto can improve defensively, not drastically but enough to keep the scorecards close.
That observation, combined with Santa Cruz's punch output and ability to cut off the ring, have convinced me to pick him again. Just.
****
Choosing a winner from Mikey Garcia and Dejan Zlaticanin, at this stage, seems a lot easier.
Both men are unbeaten yet I can't see past Garcia on points.
He should be on another level from Montenegro's WBC lightweight title holder who emerged as a real threat in division by beating Ricky Burns in 2014.
Two and a half years of inactivity [until his return last year against Elio Rojas] look to have impacted on Garcia's fighting style but he is first class and carries real power.
A showdown with Jorge Linares later this year would be a remarkable matchup.
WHY SERGEY KOVALEV OR ANDRE WARD SHOULD BE FIGHTER OF THE YEAR, NOT CARL FRAMPTON
SANTA CRUZ v FRAMPTON – A MODERN CLASSIC THAT MUST GET A REMATCH
THE RISE OF JOSH TAYLOR, SCOTTISH BOXING'S BRIGHTEST PROSPECT