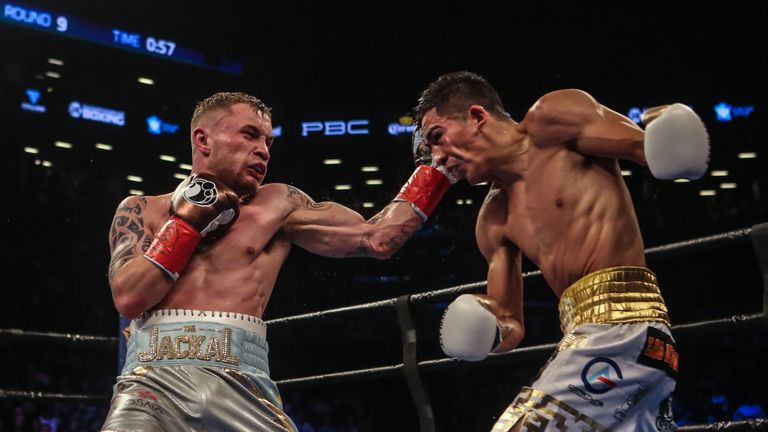 Leo Santa Cruz failed to keep his belt yet he and Carl Frampton both fulfilled their promises to deliver an unforgettable fight.
A no-nonsense, nerve-shredding battle of two brilliant champions, two class acts who departed the ring on Saturday in Brooklyn, New York, with their credentials not just enhanced, but transformed.
Santa Cruz was defeated for the first time when, in reality, he lost so little.
In the context of boxing writing, declarations are equally as important as predictions and on Thursday I tipped the 27-year-old to retain his WBA featherweight title.
The piece read: "If he starts well – in contrast to his opening against compatriot Abner Mares in their thriller last year – Barry McGuigan's protégé may face the toughest night of his career.
"The Northern Irishman must not be lured into a toe-to-toe battle.
"Santa Cruz is in his element in the exchanges and he will not be hesitant, a la Scott Quigg against Frampton, when it comes to letting his hands go with hooks and uppercuts."
It went on: "For him [Frampton] to take the belt, he must improve significantly on the Quigg performance.
"His power is unquestionable – can he slow the furious pace his opponent likes to set?"
And he did in spells, even matching it at times.
Overall the clash played out as I envisaged but with one crucial exception – I underestimated Frampton's ability to compete in the toe-to-toe exchanges with three-weight title holder Santa Cruz.
Occasionally he was pushed back in them, and then the Northern Irishman did the pressing, forcing his opponent to retreat. In the second round he rocked him.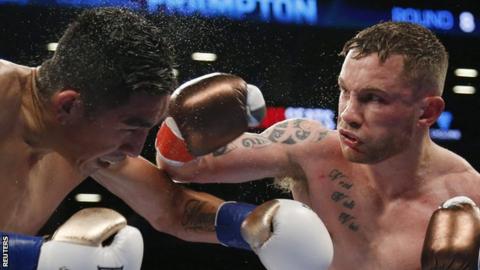 Against a first-class slugger, game plans don't come more audacious than this.
For 29-year-old Frampton, never truly hurt in the Barclays Center bout, it paid off in spectacular fashion and it is safe to say Britain does not have a finer pugilist right now.
Curiously, remarks made by Santa Cruz in the post-fight press conference suggested there may have been a strategy disagreement within his team. He said he wanted to pressure Frampton from the beginning – his father Jose urged him to box his way into it.
A difference of opinion or not, the hesitant opening certainly proved costly.
This was a tough fight to call and, like BoxNation's excellent pundit Barry Jones [the former WBO super-featherweight title holder], I had it a draw. The punch stats suggested an even scrap too.
Sadly, where there are elite matchups, there are bad judges' scorecards.
Step forward Tom Schreck who somehow witnessed a 117-111 Frampton win. Frank Lombardi saw it 116-112 in the same direction with Guido Cavalleri going for 114-114.
On second viewing I still struggled to see how anyone could give it to either man by more than one point.
Schreck's card was a shocker.
Not that we are likely to hear it referenced in the coming days given the UK media's sycophantic social media reaction to the result. This subject will be avoided like the great Guillermo Rigondeaux who now has Frampton for company on boxing's pound-for-pound list.
We won't see them trade leather any time soon.
Nevertheless, the unbeaten Belfast hero has a plethora of exciting and financially-rewarding options.
Promoters Top Rank are unlikely to let new WBO champion Oscar Valdez face The Jackal so that leaves unification possibilities with Welshman Lee Selby (IBF) and American Gary Russell Jr (WBC).
The Russell Jr fight, intriguing and dangerous for both men, identifies the world's number one featherweight.
Selby-Frampton would be an absorbing domestic dust-up deserving of a stadium venue.
A travesty for the sport is if Carl Frampton and Leo Santa Cruz never meet again between the ropes.
Talk of a rematch clause is encouraging though. Wherever it is staged, a return represents serious remuneration for the 126-pound division's latest superstars.
Judging by how the pair arrived at each other via a Rigondeaux dodge, they're too smart to pass up this opportunity.