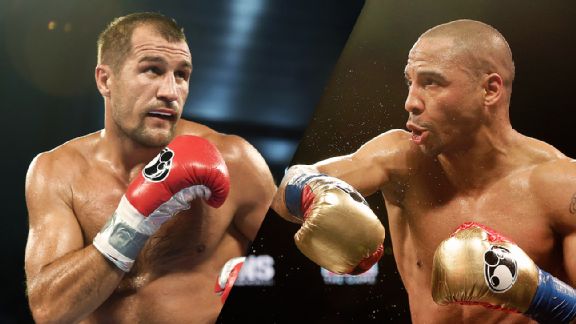 The identity of boxing's pound-for-pound king remains unclear.
However the battle between light-heavyweights Sergey Kovalev, 33, and Andre Ward, 32, should go a long way to determining it.
Make no mistake, this is the real deal. A proper clash between two unbeaten fighters and, more importantly, two legitimate champions at their peak who have hitherto answered every question asked of them.
There has been no ducking and no diving, no escaping weight divisions to avoid rivals.
The rewards are a career-defining event in Las Vegas on November 19 for which they will be handsomely remunerated.
It would be easy to pigeon hole them – Ward the boxer, Kovalev the puncher.
But there are several factors that make it one of the most intriguing encounters of recent times.
Kovalev's power is stunning and he can box brilliantly too. The WBO, WBA and IBF champion showcased those skills when he annihilated Welshman Nathan Cleverly in 2013 to pick up the first of his three title belts.
Former super-middleweight ruler Ward remains one of the slickest and craftiest fighters on the planet.
And he will need every trick – including the dark arts Carl Froch bemoaned after their 2011 scrap – to beat the Russian, the hardest hitter he has ever faced.
Let's hope their warm-up bouts go without a hitch.
****
This week I signed up to Reddit and got involved in the excellent r/Boxing which has over 40,000 subscribers.
The sweet science discussion there is top class.
Shawn Porter's AMA – ahead of his fight with WBA welterweight champion Keith Thurman – was fascinating and he was kind enough to answer my question.
I asked: "Who do you regard as the best pound-for-pound fighter in the world?"
Porter: "Andre Ward."
****
Ward, pictured above against Froch, will never be as famous as Floyd Mayweather Jr or have his remarkable riches.
Yet I can't help think a win over Kovalev, bad decisions aside, would give Oakland's Olympic gold medallist the edge in the context of legacy.