Kazakhstan's welterweight wizard Daniyar Yelussinov and classy Cuban bantamweight Robeisy Ramirez, in my book, were the best boxers at the Rio Olympics.
However it was impossible to ignore the talents of Britain's light-heavyweight knockout artist Joshua Buatsi and 19-year-old American prodigy Shakur Stevenson.
Stevenson – who took silver after losing to Ramirez in a fascinating final – this week signed a management deal to ensure his professional career is looked after by Andre Ward, Ward's advisor James Prince, above, and lawyer Josh Dubin.
A promoter has yet to be announced.
But if the teenager harbours ambitions to be a superstar of the sport, he must learn from his idol's choices in regard to inactivity and publicity.
Despite the hysterical 'robbery' cries that followed his light-heavyweight super-fight win over Sergey Kovalev, you could make a case for 32-year-old Ward being boxing's pound-for-pound king.
The Oakland man boasts an impeccable CV – he is unbeaten since the age of 13 and represents the last male American boxer to win Olympic gold.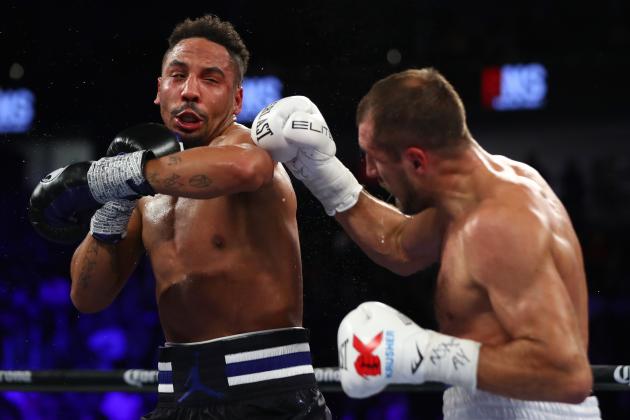 More importantly, he has added Kovalev to a list of impressive scalps which already included Chad Dawson, Carl Froch, Mikkel Kessler and Arthur Abraham.
Yet his crossover appeal doesn't mirror his phenomenal talents.
In the past, fans have cited his lack of personality and punching power. Carl Froch – who lost to him at super-middleweight in 2011 – says: "You got to give Ward his credit for what he does, he's an unbelievable fighter.
"But I've said it before and I'll say it again, he's fucking boring, that's the problem."
Froch may seem a tad bitter but does he have a point?
The Kovalev-Ward pay-per-view bombed at the US box office with 160k buys – just over half the numbers attracted by Manny Pacquiao's WBO welterweight title win against Jessie Vargas.
To put the figures in a more painful context, double that audience watched the super-bantamweight unification between Carl Frampton and Scott Quigg in February.
Six months later in Brazil, amidst the dark arts of the amateur game, Stevenson was a ray of light.
The slick southpaw, armed with a fantastic jab and his signature smile, lived up to the pre-games hype and it wasn't long before promoters circled.
After the tournament – discredited by several corrupt judges – I wrote: "Shakur Stevenson's honesty in defeat to Robeisy Ramirez was refreshing.
"He was in tears after the bout but had no complaints about his loss to the sublime Ramirez, now a two-time Olympic champion after winning flyweight gold four years ago.
"The youngster, from Newark, New Jersey, appears to be a class act."
****
Stevenson's agreement is interesting given his summer discussions with Floyd Mayweather Jnr and Mayweather Promotions.
Hip-hop impresario Prince, 52, managed Floyd for a spell until a bitter split in 2003 which Top Rank promoter Bob Arum gave an insight into on TV a few years back.
Arum, 84, said: "We were at dinner one night and I got a call that there was a disturbance in my gym.
"Floyd apparently had asked us not to do a fight in October but to do it in December after James Prince's contract with him had run out.
"The disturbance in my gym was that some people came over, with or without the knowledge of James Prince, and proceeded to break a couple of heads of people in Mayweather's camp [Leonard Ellerbe and Thomas Summers] with baseball bats.
"So the gym was splattered with blood.
"Floyd came to my office the next day and he said, 'Prince wants his money from the fight that's coming up'. I said, 'Fine, if that's what you want – I'll write him a letter of credit'.
"Floyd said, 'Prince don't do no letters of credit, you better sent the cash'.
"So I wrote a cheque, and I made a contract with Prince's lawyer and he got paid the money that he said he was entitled to as Floyd's manager."
KOVALEV-WARD – A BRILLIANT BOUT LOST AMIDST HYSTERICAL 'ROBBERY' CRIES