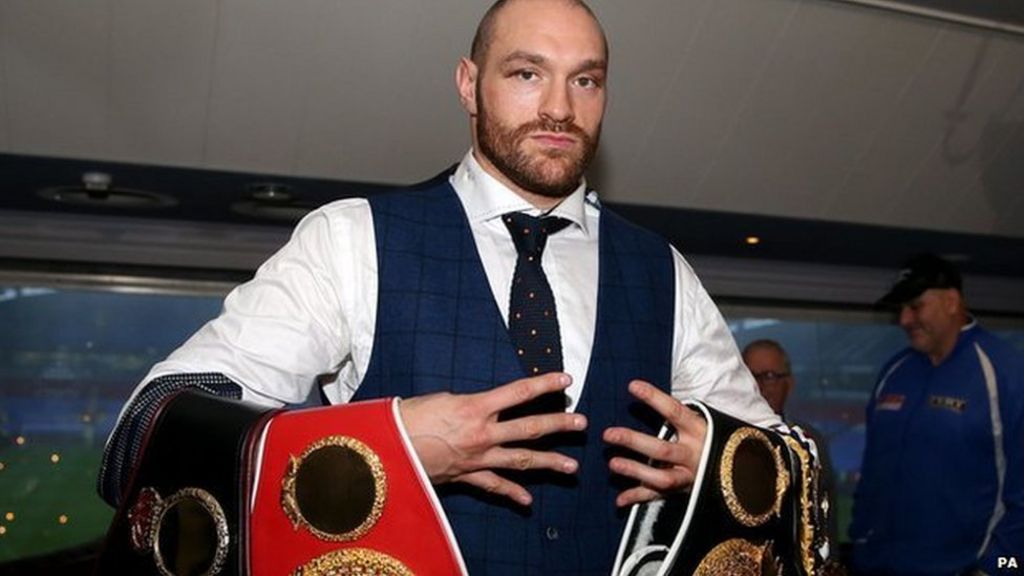 The reply from a friend and colleague, after forwarding him a link to the Sunday Mirror's story about Tyson Fury's doping investigation, summed it up perfectly.
"I despair," he wrote.
There's a Scottish word for this kind of emotion – scunnered.
Boxers avoiding one another have that effect, as do fight cancellations and tales about guys from the sport we love possibly using performance-enhancing substances.
If true, the piece written by Matthew Drake [the reporter who broke the news of promoter Frank Maloney's sex change in 2014] is an excellent bit of journalism.
Fury and his team have denied the claims, calling them "baffling".
His fans will argue, that with his physique, there's no way it can be correct.
They are certain to speculate about how the information reached Drake and why it took so long to emerge when the concerns of UK Anti-Doping (UKAD) arose over a year ago.
For me, just knowing is important.
The world heavyweight champion, whose cousin Hughie is also under investigation, has not been shy in discussing this subject. Although his views have tended to yo-yo like his weight.
He insinuated on several occasions that others, in and outwith his weight class, use banned drugs while insisting he would never require such help.
Yet in a November interview with BBC Radio 5 Live, Fury said: "Why don't they just make drugs totally legal in sports, then everybody would be taking drugs and it would be fully fair then, wouldn't it?"
In a wider context, British Boxing Board of Control general secretary Robert Smith is adamant the fight game in the UK has a problem.
His stance is similar to that of former WBO super-featherweight title holder Alex Arthur.
He told me: "I don't think there are many fighters in Britain doping if I'm honest. I think the testing procedure in the UK is absolutely brilliant.
"I think in America, and other places, it's far looser.
"I don't think their testing procedures out of training are good enough. They can have time away, take stuff and by the time they're starting training camps, it's already out their system.
"These guys have so much money they can go to specialist doctors and get tests done to make sure they're clean."
Six years ago at a magazine launch party in London I spoke to a hall-of-fame fighter about the issue. He too was quick to point the finger across the Atlantic.
He said: "You see them going up in weight after weight after weight, knocking guys out…come on?"
Sadly, the facts tell us that doped boxers are not exclusive to countries like America and Russia.
The list of Brits who have tested positive in recent years includes Dillian Whyte, Kid Galahad, pictured below, and Enzo Maccarinelli – the same Maccarinelli that promoter Frank Warren called "an absolute model professional in every respect".
It appears doping indiscretions on these shores are quickly forgotten about.
Maybe the approach of boxing's British custodians simply reflect fans' lack of interest in the topic.
One source of encouragement lies in the attitude of James DeGale.
Before his April fight with Rogelio Medina, the IBF super-middleweight champion displayed his commitment to clean competition by revealing his participation in a UK Anti-Doping (UKAD) scheme which sees him available for testing one hour of every single day.
He said: "I'm one of only 30 boxers who have."
Boxingtruth.net contacted the publicly-funded body to request the names of the others.
Unsurprisingly, our request was rejected. Mystifying, though, was the reason cited by an official at the organisation who said: "This is to protect their right to privacy and to ensure we do not undermine our processes and what we are trying to achieve."
Few know when the Fury issue will be resolved or if it will impact on his rematch with Wladimir Klitschko.
But whenever and whatever the outcome, scunnered or not, consider the words Barry McGuigan used when condemning Galahad last year.
The featherweight legend said: "The use of steroids in sport is cheating, pure and simple, but in boxing it can have fatal consequences.
"In athletics runners can run faster, shot putters throw further. When you are jumping you can go higher and longer.
"Cyclists can go up hills quicker and ride for longer but they don't run each other over cliffs.
"They don't break somebody's neck or put them in a coma and kill them. That's the difference in boxing."