Miguel Cotto is one of the fighters of his generation yet the Puerto Rican, and his scalp, also represents something more significant
By default, he has become the catalyst for boxing's grandest and most anticipated bouts.
When Saul 'Canelo' Alvarez wrestled the WBC middleweight title from his grasp last November, the result sparked calls for the Mexican to face WBA and IBF champion Gennady Golovkin [Kazakhstan's former Olympic silver medallist was awarded the WBC belt last month when Alvarez vacated the belt].
That clamour began almost six years to the day a welterweight Cotto, pictured below, was stopped by Manny Pacquiao.
Their memorable encounter ignited the Floyd Mayweather flames which raged for five and a half years before the American finally agreed to share a ring with his pound-for-pound rival.
Like Mayweather did, Golden Boy's superstar Alvarez has entered the swerving process.
The tedious act of avoiding the most obvious opponent out there, a natural nemesis with whom a night in Las Vegas could define careers.
Where the dodging is concerned, there are vastly different time scales.
Curiously though, I can't recall Mayweather getting anywhere near as much flack as Alvarez.
After the potential Pacquiao fight emerged, he ticked over against Shane Mosley [past his best], Victor Ortiz and Cotto [post-Pacquiao defeat]. There were also bouts with an out-his-depth Robert Guerrero, Alvarez, and Marcos Maidana twice.
A chilling knockout of Amir Khan is the only addition to Alvarez's record since his Cotto points win.
The disapproval which greeted the announcement of his September matchup with Britain's WBO light-middleweight champion Liam 'Beefy' Smith was no surprise.
Top Rank promoter Bob Arum said: "I mean, Liam Smith isn't even the best fighter in his family."
Harsh, but true.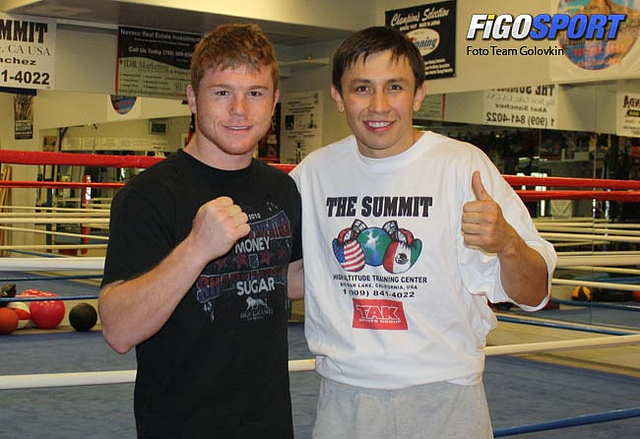 The event enhances the unbeaten Liverpudlian's profile and elevates his standing in the sport before he's even thrown a punch. However it's a genuine mismatch which leaves Alvarez, pictured above after a sparring session with Golovkin five years ago, in a treacherous position with boxing aficionados.
They are unashamedly knackered, punch drunk on false promises.
When Golden Boy decided his next opponent would not be Golovkin, such condemnation was inevitable; the blow may have been cushioned by a return with Erislandy Lara [who lost a disputed decision to Alvarez in 2014].
Bouts with bona fide middleweights like Billy Joe Saunders or Andy Lee would have been an easier sell.
Fans wanted a blockbuster and they were handed a turkey. Patience is at a premium.
Maybe, just maybe, Mayweather's extensive evasion has impacted on Alvarez's attempts. His cautious approach was not only exclusive to the Pacquiao years.
Maybe his bout with the Filipino itself – with the build-up more eventful than the dust-up – is to blame.
And the recent comments of Golden Boy CEO Oscar De La Hoya, when asked about Alvarez and Golovkin, are exactly the kind despised by devotees of the sweet science.
He said: "We have to do a little marinating for it to be the biggest fight in the sport, it has to happen at the right time."
Let me know your thoughts below or on Twitter @MarcDeanie.