Chris Eubank Sr was discussing The Greatest on TV when his tribute went off on a tangent.
"Just talking about the Olympics, and professional boxers entering the Olympics, I think it's a fabulous idea and I think Chris Eubank Jr will actually be going to that. I say that because we want to represent our country. But back to Muhammad Ali…"
It was quintessential Eubank Sr. In fact, the exchange could only have been more Eubank Sr had producers stuck on Tina Turner's Simply the Best and asked him to strike a moody pose, before jumping over ring ropes onto the sofa.
His words were a subtle, calculated exertion of control. An attempt to move the Eubanks' agenda on. Considering their conduct after the Nick Blackwell fight, I'm not surprised.
There were two strands to Blackwell's issue with them, both documented in the media.
The first was that they ignored his family's request not to hold a press conference while their loved one lay in the coma he fell into following his British title defeat to Eubank Jr, 26.
Eubank Sr said: "Public and media pressure was so huge that we felt we had to hold a press conference. It was done with the full knowledge of the [British] Boxing Board of Control. Nick is a wonderful man, a gentleman and a warrior."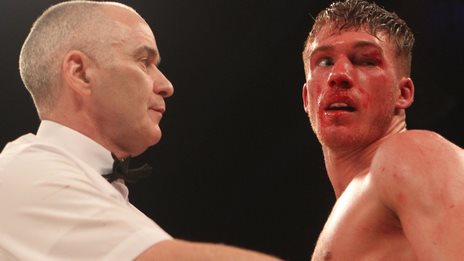 The second lay in Eubank Sr's insistence that advice he gave to his son at the end of the eighth round was designed to protect his opponent.
Blackwell, 25, said: "The people who saved my life were the referee [Victor Loughlin, pictured above], the person who put me in the coma and the people at St Mary's Hospital [in London]."
The Eubanks were quick to criticise Loughlin's handling of the bout. Their comments were unnecessary and a raft of respected boxing names – including Adam Booth and Billy Joe Saunders – supported the man in the middle.
Veteran promoter Tommy Gilmour told me: "If a boxer's fighting back, you're entitled to give him a chance. If someone's on the ropes throwing punches back it's very difficult to jump in and stop it. Victor shouldn't need to justify his actions. He's an A-star referee."
The board of control had similar thoughts. Its general secretary Robert Smith won't allow referees to speak publicly about the bouts they officiate. However, like Blackwell, Loughlin deserves to have his say. The Eubanks have barely stopped talking since March 26.
Going on ITV's Good Morning Britain to respond to Blackwell's interview a day earlier represented another misjudgement.
The appearance was as pitiful as Eubank Jr's offer – what he called a "goodwill gesture" – to give his title to his retired rival, a man grateful to be alive. Such futile exercises and odd Olympic declarations [swiftly dismissed by the relevant authorities] won't relieve the Eubanks of the regrettable aftermath.
The same can be said of stories about 'schooling' James DeGale in sparring.
An apology is what's required.
Not for Eubank Jr's delightful display in their British title clash or the devastating uppercuts at the heart of his relentless punch output, but for a lack of compassion.
This week Blackwell, pictured above in hospital beside brother Dan, expressed a desire to move on from the row.
In a chat with Sky Sports News, he said: "Junior's not actually a bad lad. I just personally think his old man doesn't help him."
Infamy in boxing rarely impacts on income so the Eubanks will continue their pursuit of middleweight dominance with more earning potential and profile than any current British title holder. They are in a powerful position should negotiations for Eubank Jr's rematch with WBO champion Saunders begin.
Ultimately though, father and son must realise they had no right to dictate the terms of Nick Blackwell's biggest fight.